This 2015 case study richly describes United We Dream Network's remarkable journey in coalescing and accelerating the progress of the immigrant youth movement. We tell UWDN's story using a visually engaging SlideDoc format – a combination of written narrative, graphics, and images – which consists of four main modules: 1) UWDN's journey at a glance, 2) UWDN's impact, 3) reflections on UWDN's path forward, and 4) reflections for funders. As the learning and evaluation partner for Unbound Philanthropy, LFA developed this case study for multiple audiences: UWDN as it takes stock of what has been achieved and charts its path ahead, Unbound Philanthropy as it supports UWDN and lives out its "theory of philanthropy," and other funders who wish to advance movement-building and immigrant rights. To develop this case study, LFA engaged in an array of methods, integrating data from interviews with over 30 individuals, insights from more than 20 documents, and statistics collected by UWDN. Download the Executive Summary or the Full Case Study.
Please note that the Full Case Study PDF contains bookmarks so that you can jump to different modules and sub-sections. Once you have downloaded the PDF, click on the bookmark icon on the top right to see a list of the five main case study modules.
LFA has developed this toolkit for organizations wishing to track their advocacy activities and impact. It is geared to direct service organizations which also conduct advocacy activities, and may also be useful to advocacy organizations new to evaluation. The emphasis is on taking steps that do not require a great deal of effort, and which capitalize on the inside knowledge that advocates have of their own work. It contains tips and guidance on identifying evaluation questions, tracking activities, articulating and measuring interim outcomes, and using findings to inform advocacy strategy. Download the Toolkit
In this Foundation Review article, Barbara Masters and Torie Osborn describe how foundations can support movement building, identifying five core elements: organizing an authentic base; leadership; vision and ideas; alliances; and advocacy infrastructure. They also offer a useful framework for evaluating movement building. Download the Article.
Manuel Pastor and Rhonda Ortiz provide guidance to funders and the field at large by detailing what makes for successful social movements, what capacities need to be developed, and what funding opportunities might exist. Download the Article.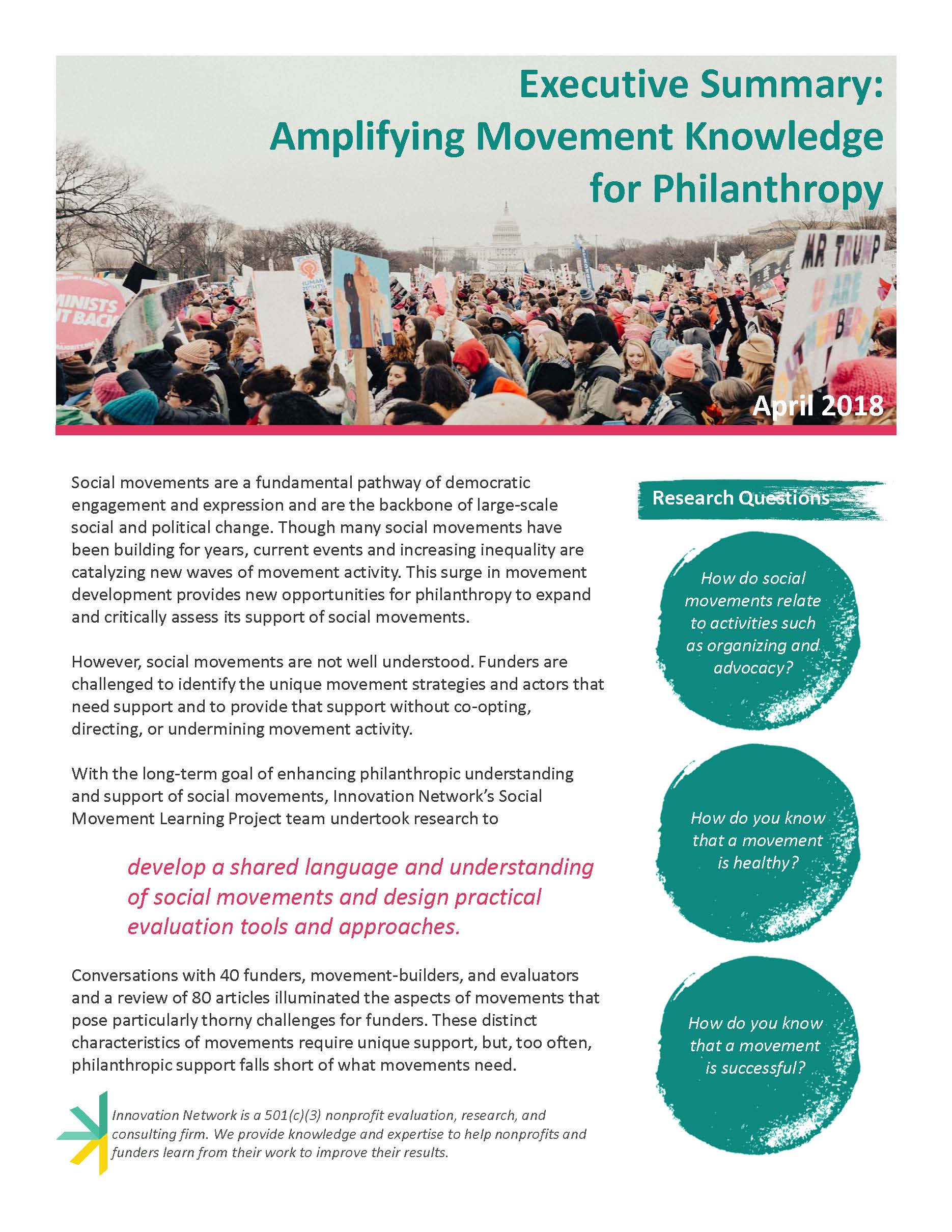 With the long-term goal of enhancing philanthropic understanding and support of social movements, Innovation Network's Social Movement Learning Project team undertook research to better understand the barriers and challenges to social movement funding. This paper provides an overview of the findings from an extensive literature review and conversations with over 40 funders, movement-builders, and evaluators. Download the Executive Summary.
At the 2017 American Evaluation Association Conference, Innovation Network shared what they are learning about evaluating social movements, including: what they know about social movements, their components, characteristics, and types; what aspects of social movements are ripe for evaluation; and what existing evaluation approaches are well suited to evaluating social movements. View the Presentation.